In Memoriam

The Washington County Historical Society is deeply indebted to so many individuals and families with county roots and/or connections for their ongoing support, patronage and contributions. We will remain forever grateful. Our dream has been realized several times over and we will continue to endeavor to fulfill our commitment to preserve, protect, and share the community's heritage and history for generations to come.
Our sincerest condolences to the families of the following individuals. These individuals are among many people that have played such an important role in the history of The John Hay Center.
D.Jack Mahuron
1926-2023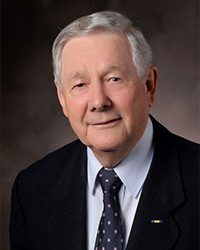 Outside of his service in World War II and the Korean War, Jack has been involved and working in the community for over 80 years.
Jack went to work for Farmers Citizens Bank, eventually rising to the position of bank president. In 1958, he married Salem native, Carol Baker Godfrey, and the couple had three children.
In 1964, Jack was named Citizen of the Year by the hamber of Commerce. He and local business owner, Arthur Pitts, purchased the John Hay House in 1966, to hold until the Historical Society could raise the funds to pay for it; Jack also served as the financial chairman of the John Hay Center construction project.
In the late 1990s, when Cecil Smith had a dream of building a replica of the Monon's Salem Depot to house his elaborate model train collection and railroad memorabilia, Jack played a crucial role as financial advisor for the project, making the dream a reality.
Jack was also a member of the Washington County Awareness class of 2005, that initiated the rehabilitation of Beck's Mill, serving as a board member of the Friends of Beck's Mill Society.
Since the Bicentennial book project started, Jack has been an invaluable source of information and has contributed a few stories of his own. It is very likely that Mr. Mahuron has raised more charitable funds for various community organizations than any one person in the history of our county.
Carolyn (Elliott) Lindley
1939 - 2023
It is with heavy hearts that we give our farewells to the amazing Carolyn Lindley, and extend our condolences to the Lindley family.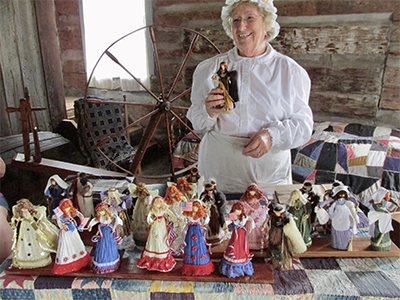 We would like to take a moment to express our deep appreciation for Mrs. Lindley and her lasting impact on the community.
Mrs. Lindley was born in the Spring of 1939 to Sherman and Daisy (Shelton) Elliott, and grew up in the Washington County area. She would eventually marry Frank Lindley in 1959 and start a family. She would end up will a large family made of children, grandchildren, great-grandchildren, and even great-great-grandchildren.
Carolyn spent her life being dedicated and kind to those around her, with these traits leading her to her various involvements within the communities she lived in. She devoted time to the Mooresville community with time spent at the Mooresville Public Library, Mooresville Park, and Mooresville Community Schools, before returning to Salem.
She would go on to donate a great deal of her energy and time to the Salem Bicentennial Committee, Washington County Food Bank, her beloved Covenantor Cemetery, as well as here at The Washington County Historical Society.
A lifetime WCHS member, Carolyn volunteered often, becoming a staple during Old Settler's Days with her booth where she would sell her incredible corn husk dolls and donate the profits to various institutions around the county.
Carolyn Lindley was an inspiring light for everyone who encountered her or knew her. We are forever grateful for her talent, time, and love for our lovely community.
Richard Trueblood
1945 - 2022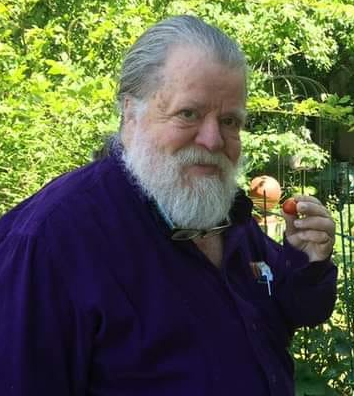 It is in tremendous sadness we join with our community in honoring the life of former WCHS Director, Richard Trueblood. His dedication and contribution to the community should serve as an inspiration to us all.
He was a retired teacher after 50 years with Salem Community Schools, a member of Blue River Christian Church and had been a life-long resident of Washington County.
He was Director of the Salem Drama Club for 50 years and a performer with the Washington County Actors Community Theater. He served as a founding member of the Washington County Art Guild, an Executive Board Member of the Indiana HS Color Guard Association, and was so proud to be a member of the School Board at Salem Community Schools. Richard truly loved Salem and wanted it to be the Best in everything. He was an Eternal Cheerleader for his hometown and opened T Antiques on the Salem Square in 1991.
Cecil Smith
1938 - 2020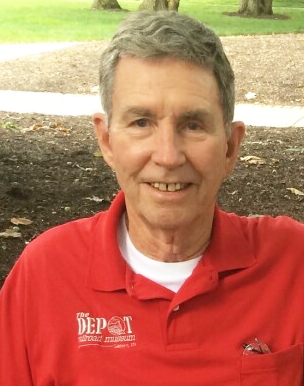 Born in Pasadena, California in 1938, he and his wife Martha Spayner Smith, of Louisville, moved to Washington County in 1965, when he was hired as managing editor of the Salem Leader and the Salem Democrat. Cecil had met Martha while he was serving in the U.S. Army, as a photographer, stationed at Fort Knox. When the couple moved to Salem, they purchased the historic old home of the late Prince Huston at 505 North Water Street, which they have maintained wonderfully over the years. Cecil an avid train enthusiast had soon converted an old carriage house that sat behind his residence into his own railroad museum, complete with an elaborate HO gauge model railway system that spanned nearly the entire length of the building and had numerous separate active train sets involved. He conducted many free tours of this building, for over 30 years, for individuals, groups, organizations and school children.
After his retirement, Cecil was the driving force, behind a team of many responsible for the successful construction and completion of the Monon railroad museum, The Depot, at the John Hay Center, in September of 2001. The Smiths have donated nearly every piece of their personal model train and railroad memorabilia collection to this facility, not to mention the unknown amount of countless volunteer hours Cecil has donated as the primary designer, decorator and stationmaster of The Depot for the past 13 years. He also serves as Secretary for the Monon Historical Society, which is now headquartered here and from 2009 to 2014 he was the Washington County Historian. Tapping into his expertise, Cecil has voluntarily served as the managing editor for the Washington County Historical Society's bi-yearly publication, "The Historian", since its debut in 2010 and the Monon Historical Society's publication, "The Hoosier Line". He is a frequent contributing author to both publications, as well. Cecil's love and knowledge of trains, model trains, the Monon and railroads in general, is irreproachable and as Cecil himself, has been a tremendous asset to the historical society
Mark Ray
1966 - 2020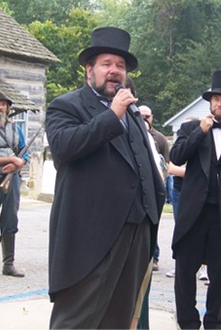 The Washington County Historical Society, along with the Old Settler's Festival Committee, was deeply saddened to learn of the passing of Salem native, Mark Ray, on June 24, 2020. Mark, a life-long thespian, had for several years portrayed our namesake, John Milton Hay, during the Old Settler's Festival, and at other historical events, like the Indiana Bicentennial celebration, in 2016.
Mark was a member of the community theatre group for over 30 years, providing numerous memorable roles. Within recent years, he was recognized by the Southern Indiana Theatre Alliance, for Best Actor in a Musical, for his portrayal of Prince Dauntless, in "Once Upon a Mattress".
He was multi-talented individual and a history lover, with a big, warm, all-inclusive heart. He was comfortable regardless of the setting or company and inspired the same in others. Perhaps of most significance, he was benevolent with his time, and he will be sorely missed.
Rest in Peace Mark
Ben Weathers
1944-2015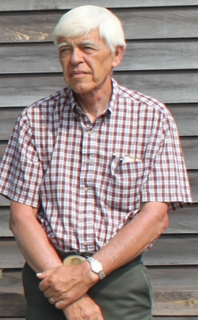 In April of this year, The Washington County Historical Society lost a long-time member and good friend. Benjamin Freeman "Ben" Weathers lost his yearlong battle with metastatic lung cancer.
A native of Washington County, Ben was born catty-cornered across East Market Street from the Museum at Name Maternity Home on January 25, 1944, the only child of Herschel and Myrtle (Miller) Weathers. His mother was a long time teacher in the rural schools of Washington County and his father was a rural mail carrier out of Fredericksburg for nearly 50 years. Ben received his education in Posey Township until the high school burned at Hardinsburg. He transferred to Morgan Township and graduated from there in 1962. On May 5, 1967, Ben took for his wife and lifelong helpmate, Myra Lou Coots who was a nurse at Washington County Memorial Hospital in Salem for many years.
Ben was an outdoorsman and lover of nature, hunting being a favorite pastime. He had a wonderful collection of guns and Indian artifacts. Another area that peaked his interest in the last few years was the renovation of Beck's Mill where he spent many hours donating his knowledge and time as a volunteer supporting the project in every way possible.
Ben was an active member of the Blue River Masonic Lodge in his native Fredericksburg, the Salem Lions Club and has served for many decades on the Washing County Cemetery Commission and was responsible for locating many lost cemeteries by his knack for "witching graves". He was also a former member of the Salem City Council and the Salem Community School Board and a Director of Mid-Southern Savings Bank among other organizations.
Ben and Myra had two children, a son Steven and a daughter Carrie, now Mrs. Brock Chastain. Carries followed in her father's footsteps and now she and Brock are operating the funeral home in which he founded. He also leaves to mourn their loss, Carrie's song Jeffery Burch and Brock's daughter Addie, as well as several cousins and a multitude of friends.
On the morning of April 10, 2015, Ben have up his struggle when he heard the words, "Well Done Thy Good and Faithful Servant, Enter into the Joys of the Lord." I followed the hearse driven by daughter Carrie, carrying his body through his hometown of Fredericksburg on the way to his final resting place—Blue River Church of Christ Cemetery in Harrison County where he joined generations of his family's ancestors.
I went as far as I could go with Ben here on this earth, but I hope someday I have the privilege of entering the Pearly Gates where I'm sire Ben will be standing wit his pipe in one hand and the other stitched saying, " Hey John! What took you so long to get here?"
I'm looking forward to that Ben—save a seat for me and put in a good word to Saint Peter!
Rest in Peace my friend,
John W. Hughes
*Full version of John Hughes' memorial available at the Stevens Museum*
Consider Naming WCHS as a Beneficiary in Your Will
Consider leaving a family or personal legacy with the Washington County Historical Society by naming them as a beneficiary in your will. Honor the legacy of friends and family that called Washington County, Indiana home and ensure future generations are educated about the long and significant history of our community.

WCHS is a Nonprofit Organization
The Washington County Historical Society (WCHS) is registered as a 501(c)(3) nonprofit organization. Contributions to the WCHS are tax-deductible to the extent permitted by law. Please consult with your financial planner for rules and regulations concerning financial donations.
Have Washington County Memorabilia you would like to Donate?